It's 28 April, Saturday evening.
18:00 Our train stops at Milan's Central station.
After an uneventful voyage me and a friend (ciao Andrea!) of mine finally disembark. We check the location of the Rolling Stones theater, where Boss Hog are scheduled to perform. I've bought a throwaway camera to shoot some pictures of the events for the Internet home page I'm planning to dedicate to Cristina (the future Cristina Martinez Worship Site).
My real plan, of course, is to find Cristina, talk to her for hours with the excuse of the home page, and seduce her.
About 19:30 Just outside Rolling Stones Theater.
A guy in leather jacket cross the street in front of us. He's carrying a little baby on his back.
"Hum... that creepy face reminds me of someone".
The light turns green, we cross. Wait, that's Jon Spencer! And that's Jon-Cristina's son! "Hey, Jon!".
My brain tells me: "If Spencer (Junior and Senior) are here Cristina must be near".
20:30 Inside.
Cristina appears briefly. She's carrying some bags (gone shopping?).
A crowd suddenly forms around her and she's forced backstage.
The support band, the Brassy, begins to play. They are cute and they try their best to win our attention but at the end they seem to be rather upset, perhaps pretending too much from a distracted audience.
21:30 Cristina rides in
Boss Hog enters on stage. Like a panther SHE walks in, her body covered in black leather. Crowd goes wild.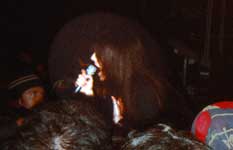 There is one thing for sure that stroke everyone in the audience. Cristina's huge smile. OK, she's gorgeous. But still that warm smile is definitely special. Strangely combines perfectly with Cristina's I'm-going-kill-you-right-now attitude.
Cristina dashing
Soon the panther begins jumping on front line audience, where we are. She shakes hands, caress people, people caress her.
This coming and going is good to me since lets me take some nice close shoots.
Suddenly my companion is (willingly) caught in Cristina's crusher-like handshake.
She stay in front of us. She keeps singing her body shaking, crushing my friend's hand.
People touches her hair. I take picture.